Monty is an award winning magician and currently holds three Guinness World Records in Magic.
Monty specializes in corporate and fundraising events.


Contact Us










---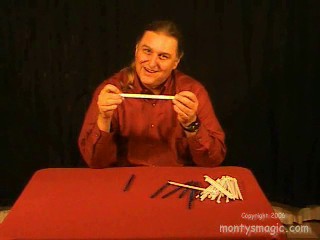 Restored Straw Wrapper
Remove a wrapper from a straw. Tear it into small peaces. Instantly restore it to the original condition.
The straw wrapper can be examined before and after the trick.
Easy to learn.
Easy to perform.
Requires very little setup that you can do under the table while talking to the spectators.
Completely impromptu. No special props or gimmicks are used.
Instantly download the video and start learning this fun magic illusion.
This magic illusion is performed using sleight-of-hand only. No additional props or gimicks are required and none are supplied. Download the video and start learning immediately.
Product Specifications:
WMV video file download
$2.00
---
MontysMagic.com
P.O. Box 5163
Depere, WI
54115-5163

wizard10@montysmagic.com
Call or Text
920-264-3328