Monty is an award winning magician and currently holds three Guinness World Records in Magic.
Monty specializes in corporate and fundraising events.


Contact Us










---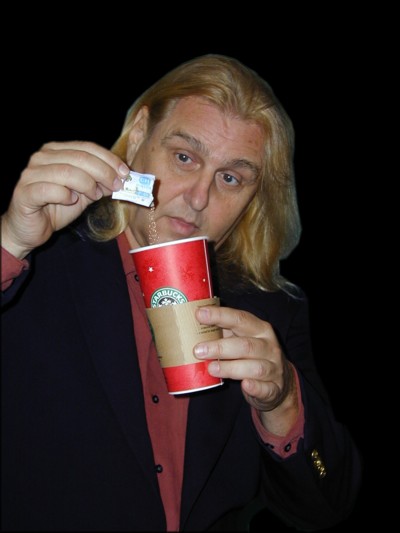 Fun At Starbucks
You will learn three exciting tricks that you can start to perform immediately. You will receive a link to a PDF file that you can download and instantly learn these amazing tricks.
---
Too Much Sugar
By: Monty
Effect:
You just bought a cup of coffee from Starbucks. The spectators see you open 3 packs of sugar and dump them into the coffee. You taste the coffee. 'That's too sweet. I think I added too much sugar.' You then poke a whole in the bottom of the cup and out falls about one bag o f dry sugar. No coffee spills out. Again taste the coffee. ' Much better. It taste just right.'
---
Insulator Surprise
By: Monty
Effect:
After buying a cup of coffee at Starbucks you remove the insulator form the cup. 'Mine never fits right.' Cut a piece out of the insulator. Restore the insulator and put it back on the cup. 'There it fits much better now.' Finish your coffee.
---
Coffee Prediction.
By: Monty
Effect: You are in a Starbucks Coffee Shop. Pick up a coffee cup and mark a prediction on it. Ask some one to name number from one to six. Let's say they select the number three. Pick up the cup and count the boxes on the side of the cup from the bottom up. Lucky you!! It comes out to milk which is the third box up and just happens to be the box you had marked.
---
Note: These tricks are done using sleight-of-hand and props you prepare. These are instructions only. No additional props, gimmicks or supplies are required and none are supplied. Download the PDF file and start learning immediately.
Product Specifications:
PDF file download
$2.00
---
MontysMagic.com
P.O. Box 5163
Depere, WI
54115-5163

wizard10@montysmagic.com
Call or Text
920-264-3328