Monty is an award winning magician and currently holds three Guinness World Records in Magic.
Monty specializes in corporate and fundraising events.


Contact Us










---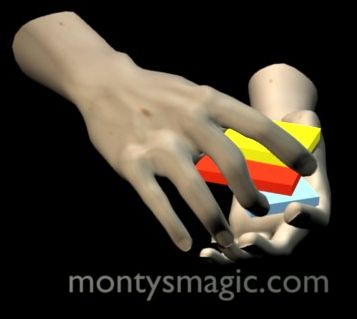 False Cuts Animated Version
This is an animated video tutorial on the false cut Monty uses in his card performances.

False Cuts and Shuffles allow you to apparently cut and shuffle a deck of cards but the order of the cards never change.
Cards stay in the same order.
Cut and shuffle the cards as often as you want.
Perfect for maintaining a stack.
Makes it easy to keep a card or stack of cards on top of the deck.
Great for stacked decks or memorized decks.
Perfect for any trick where you are forcing cards.
Instantly download the video and start learning this fun magic illusion.
This magic illusion is performed using sleight-of-hand only. No additional props or gimmicks are required and none are supplied.
Download the video and start learning immediately.
Product Specifications:
WMV video file download
$2.00
---
MontysMagic.com
P.O. Box 5163
Depere, WI
54115-5163

wizard10@montysmagic.com
Call or Text
920-264-3328