Monty is an award winning magician and currently holds three Guinness World Records in Magic.
Monty specializes in corporate and fundraising events.


Contact Us










---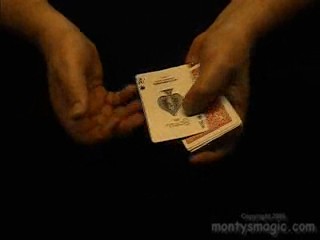 Elmsley Count
Easy to learn. The Elmsley Count was originally named the Ghost Count. The Elmsley Count is a false count with a packet of four cards that is designed to hide one card. This is done by showing only three cards instead of four. One of the cards is shown twice.
The Elmsley Count can be used to hide an upside down card, a different color card or a special gimmicked card. It is probably one of the most useful utility card sleights ever created.
Includes step by step instructions
---
Note: This trick is done using sleight-of-hand. These are instructions only. No additional props, gimicks or supplies are required and none are supplied. Download the video and start learning immediately.
Product Specifications:
WMV video file download
$2.00
---
MontysMagic.com
P.O. Box 5163
Depere, WI
54115-5163

wizard10@montysmagic.com
Call or Text
920-264-3328