Monty is an award winning magician and currently holds three Guinness World Records in Magic.
Monty specializes in corporate and fundraising events.


Contact Us










---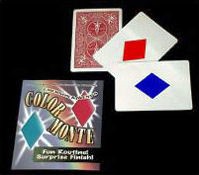 Color Monte
Effect:
Three Card Monte and Color Monte (the commersion version of Three Card Monte) are from the classic con artist game, this time with a great surprise ending.
In Color Monte:
Three cards are shown, one with a blue diamond and the other two with red diamonds. All the spectator has to do is find the card with the blue diamond. If he finds it, he wins a dollar. If he is wrong, he loses a dollar. Before long, he has lost seven dollars! For double or nothing, the spectator is shown one blue diamond card and one red diamond card, and asked to guess the color of the diamond on the third card. Of course the spectator guesses it is red, and of course he is wrong- the third card has a green $14 - Now the spectator owes $14!
In Three Card Monte:
The trick is performed exactly the same but you use the Ace of spades Ace of hearts and one Joker Card instead of the commercial cards used in Color Monte.
Product Specifications:
PDF file with instructions for Three Card Monte and patter.
$0.99
---
MontysMagic.com
P.O. Box 5163
Depere, WI
54115-5163

wizard10@montysmagic.com
Call or Text
920-264-3328