Monty is an award winning magician and currently holds three Guinness World Records in Magic.
Monty specializes in corporate and fundraising events.


Contact Us










---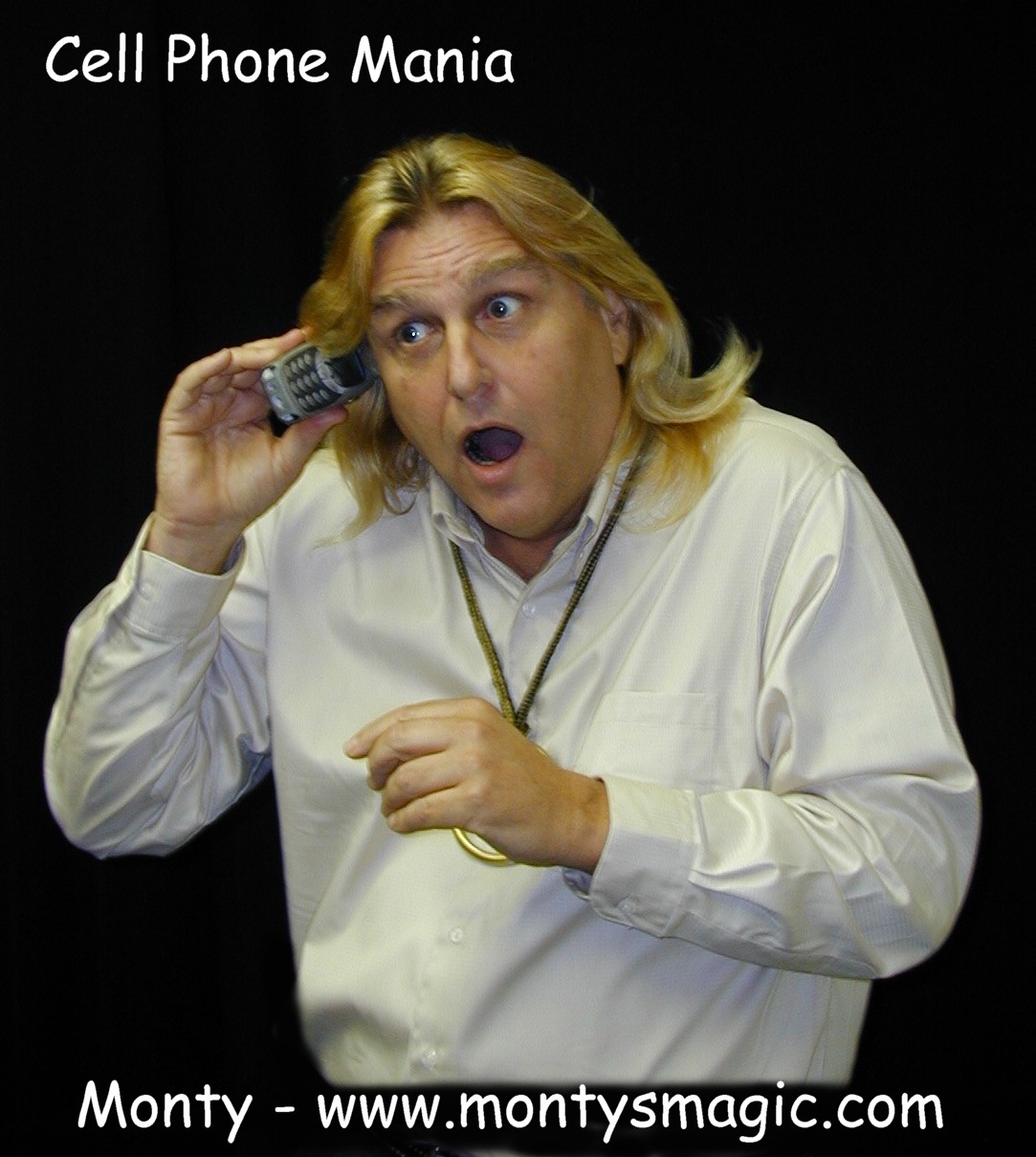 Cell Phone Mania
Effect:
The magician shows his cell phone and writes the number in large letters for the audience to see (good advertisement). He ask how many spectators in the audience has a cell phone with them.
Pick one in the most random manner you can. I do it by the last 2 digits in their number.
That member of the audience calls your phone number and you talk to them while they are in the audience. You hang up and vanish your phone. The audience member is again asked to call your cell phone number. This time it rings in the purse of another audience member who answers the phone. The two audience members say a few words to each other over the phone. If you put a microphone near the cell phones the entire audience can hear the conversation.
The magician retrieves his phone and takes a final bow to a standing ovation.
Method:
This is another trick that could not have been done a few years ago but thinks to modern technology it is now quite easy. I have used several methods and all work great but this is the method I use now and is probably the easiest. Actually it is so easy it is embarrassing but I have never been caught.
All you need is two cell phones that look the same. Sign up for call forwarding on your phone. If you are really brave you can simply put the second phone in someone's purse or bag when they are not looking. I use an assistant in the audience for the second phone because it is safer.
Set the call forwarding to the number on the second phone. Pick an audience member and ask them to call your phone. Answer the phone (before the third ring so it will not call forward) and talk to the audience member. If you can put a microphone near the phone so every one can hear.
Hang up and vanish your phone. You can use any method such as a change bag or mirror box to vanish the phone. There are many methods. I use a flip stick move like you would use with a wand and simply dump my phone when the second phone rings.
Note: You have to turn off your phone before you vanish it. That way it will call forward on the first ring.
The rest is acting. Have the spectator call your number again. When it rings in the audience, have them answer it and have fun.
Note: Make sure both phones are set to the same ring tone.
Product Specifications:
Free Trick
---
MontysMagic.com
P.O. Box 5163
Depere, WI
54115-5163

wizard10@montysmagic.com
Call or Text
920-264-3328