Monty is an award winning magician and currently holds three Guinness World Records in Magic.
Monty specializes in corporate and fundraising events.


Contact Us










---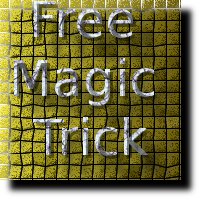 Two Card Monty
For this illusion you need two special cards. You need a double back card and a double face card. You can buy these already made from a magic dealer or you can make them. To make the double back card simply glue two cards face to face. To make the double face card simply glue two cards back to back.
Hold the cards in the right had and spread the two cards. It looks like you have one card face up and one face down. Name the card that is face up. Turn both cards over and name the card that is now face up. Do this several times to acquaint the spectator with the names of both faces.
Place the double face card behind your back allowing them to see the uppermost face while you are doing this. Ask the spectator to name the card behind your back. Secretly turn the card over. Bring out the double face card showing the opposite side. Place it under the double back card and say, No you are wrong, that is the card I have in my hand. Turn both the cards over showing the face of the card they thought was behind your back.
Product Specifications:
Free Trick
---
MontysMagic.com
P.O. Box 5163
Depere, WI
54115-5163

wizard10@montysmagic.com
Call or Text
920-264-3328