Upcoming shows
Cup O Joy
January 13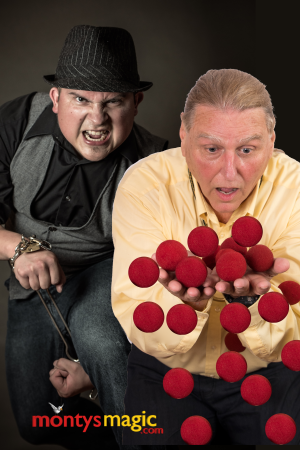 Join Monty at Cup O Joy for fun family entertainment. One performance only.
---
Lake Geneva
Magic Morgan's Little Magic Theater
January 27, 1Pm and 3PM
Monty will be Performing two shows at Magic Morgan's Little Magic Theater in Lake Geneva, WI, January 27.
---
Misdirection Lecture
Feburary 7
IBM Ring 31 Madison Wisconsin

Monty will be lecturing on the subject of misdirection and magic. If you are a magician and would like to attend this lecture, contact IBM Ring 31

.


---
Funny Valentine's
February 15, 16, 17, 18, 21, 22, 23, and 24
Check out this fun play directed by Monty.
---
Radison Hotel
Appleton Wisconsin
March 10
Monty will be performing at a fun magic show put on by the The Fox Valley Ring of magicians. This is a fundraiser to support the Fox Valley Magic Club. Come join Monty and several local magicians for a fun evening of magic.
---
Wally's Spot
March 16
Green Bay Wisconsin
More information to come.
---
Cavalcade Of Magic
March 22, 23, and 24
Eureka Springs, Arkansas
Monty will be performing at the Cavalcade of Magic, giving a lecture on magic misdirection, and giving an extensive workshop on stage presence.
---
Freaky Wizards
October
We are still looking for a venue that would like to work with us to produce this fun show featuring a lot of bizarre magic.
Contact Monty if you would like to host this show.
---
A Wizard's Christmas.
December 2018
Last year's show was a gread success and enjoyed by many. We did 5 shows and got lots of great comments from the audience. They all said they loved the show.
We will be doing the show again this year during December. More details to come.
---

Call or Text
920-264-3328
---
Unforgeable Magic Shows:

Call or Text
920-264-3328